next update / Davina's next update / last update
Narrated by
Belinda Meadows
The winter season was not good to me. I really packed on the pounds and I haven't been feeling attractive at all. I don't know how I put on all the weight but I did.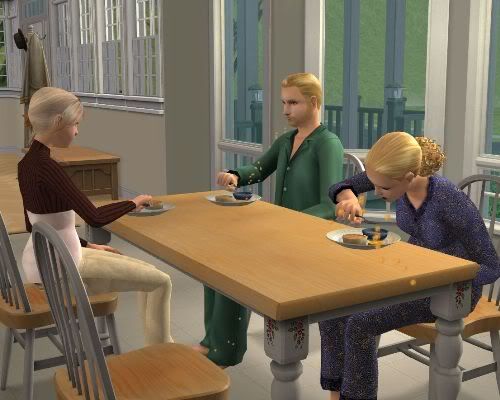 But
George
never seems to care. He's as lovey-dovey with me as he was when we were teenagers.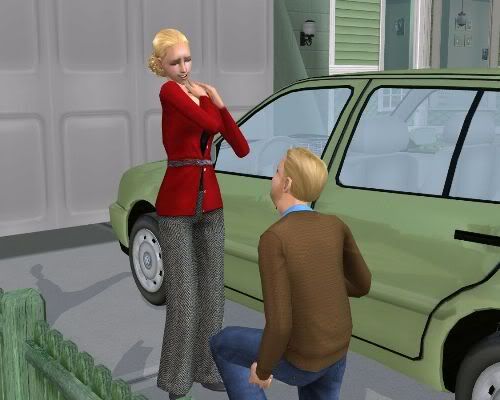 I think
Davina
is starting to get sick of us being so romantic in front of her sometimes.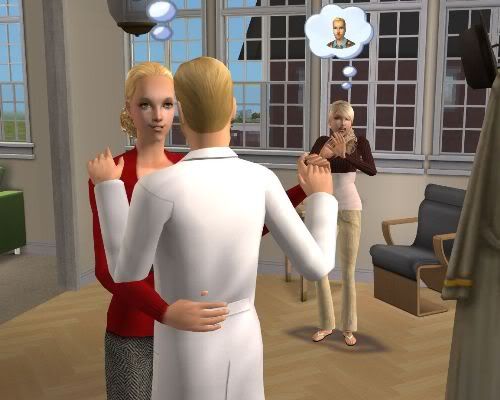 Speaking of Davina, she is such a great kid. Always studying or asking her dad to help her prepare for college.
We never have to worry about her getting into trouble at school, sneaking out when we go to bed or anything like that. Makes me wish that we had another child.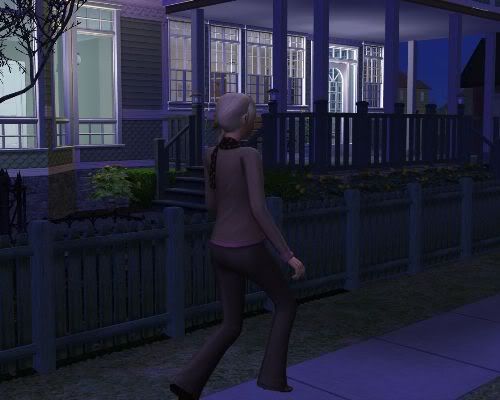 My restaurant (named
Belinda's
... my husband's suggestion) is doing pretty well but I'm always looking for more ways to make money. I was bit by the creative bug when I was very young and can usually paint a masterpiece within a few months. I was also working on a murder mystery novel.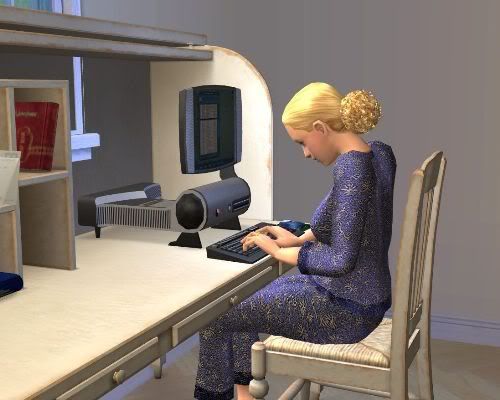 Since my restaurant seems to be holding its own, I've been looking for another business to buy. I would love to own a few businesses but with Davina being college bound, we'll see how much money we have left over.
While she's at school and George is at work, I usually go out looking for my next business opportunity. Since
Belinda's
is in Crystal Creek, I've been looking for a place downtown in Summit Heights.
One day last year, I stopped by a little shop called Café de Tuscany. It looked very cute and promising on the outside.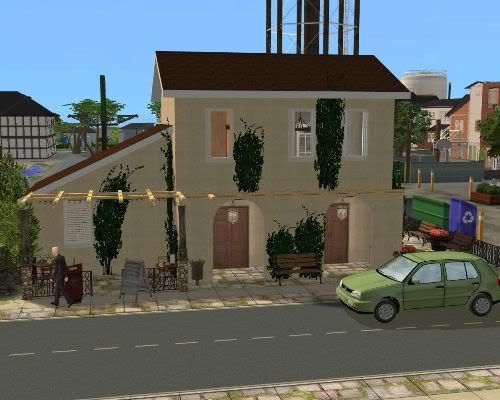 But the inside needed a little work.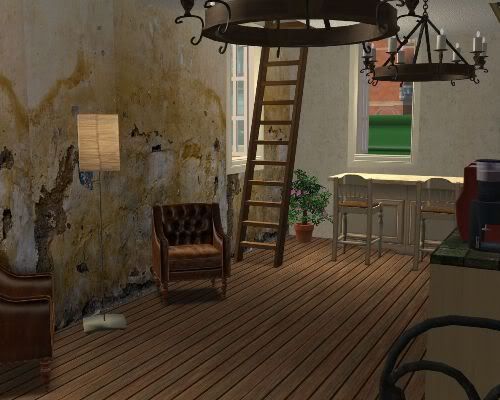 Ok, maybe more than a little. It'd cost a decent amount of money to fix this place up so I went home to crunch some numbers. I don't think we'd be able to make that kind of investment just yet.
I headed to De ja Brew Coffee House another day which wasn't too far away from Café de Tuscany.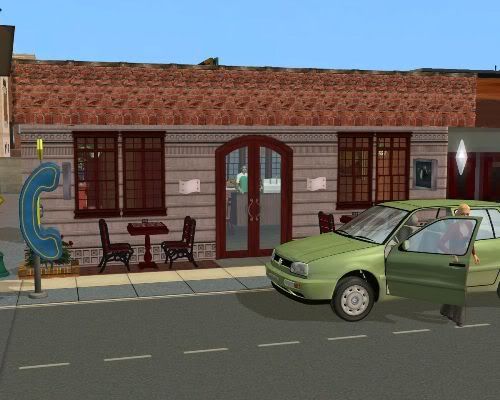 It was a lot smaller than I thought it was. Plus it's close to the bad part of town. I don't want to worry about questionable crowds coming in disrupting my business if I were to buy this place.
They did have a microphone there for anyone to use, and I couldn't help myself. I sang a quick song (which no one paid attention to) and left.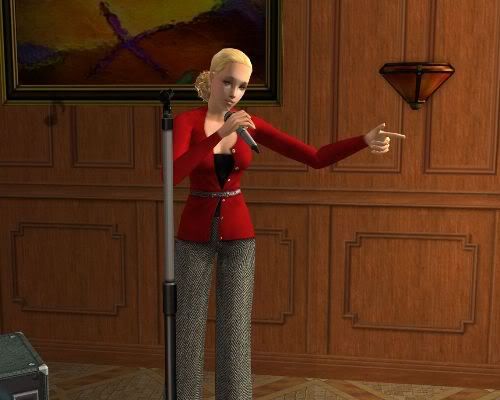 My last trip to Summit Heights was to Vince's Pizza place, which was just down the street from De ja Brew.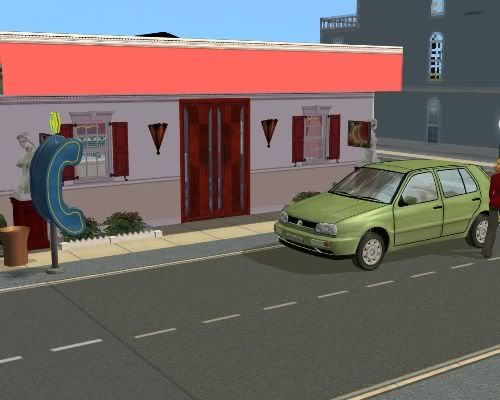 I already sell pizza at my restaurant but I could sell them in Summit Heights instead and reach more people. The shop wasn't very impressive, though, and I'd have to make a lot of changes to the décor. I've since decided to wait until Davina makes a decision on college before I buy another business.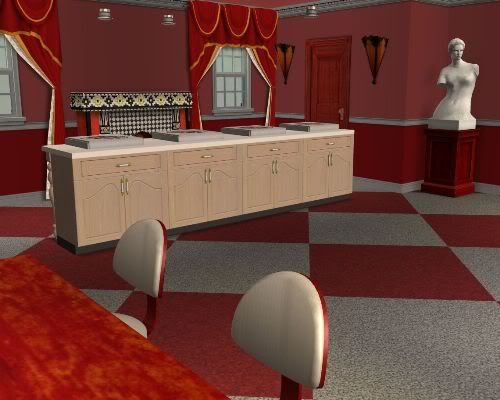 A couple months ago, Davina invited her boyfriend
Joel Rodriguez
over for dinner.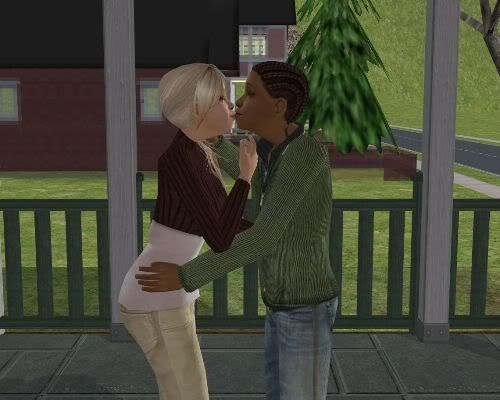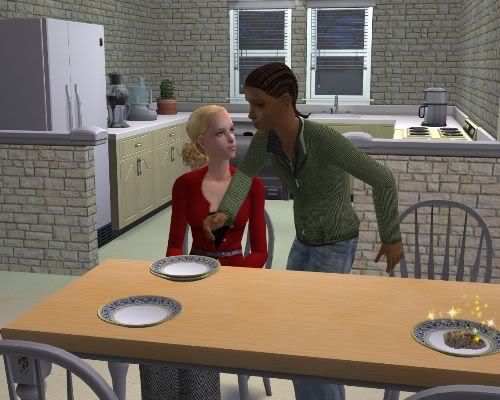 Not to toot my own horn but dinner was great and the conversation was too, though George never says much. Joel's a really nice young man and even helped with the dishes after dinner.
They ran off to her room and I didn't hear a peep from them for the rest of the night.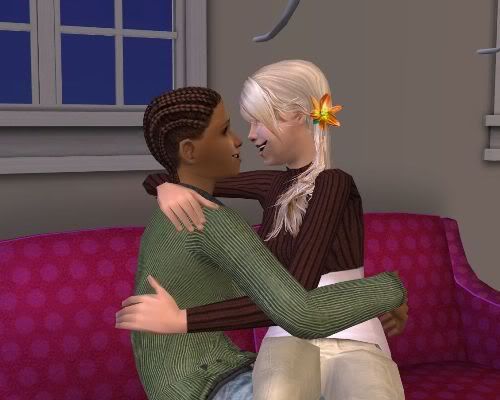 I'm glad I went up there when I did though. Who knows what they would have done. Davina knows better than that!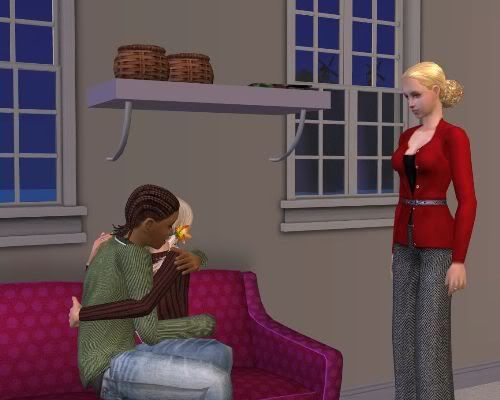 One weekend, we decided that we needed to get out of the house. So we headed to the park.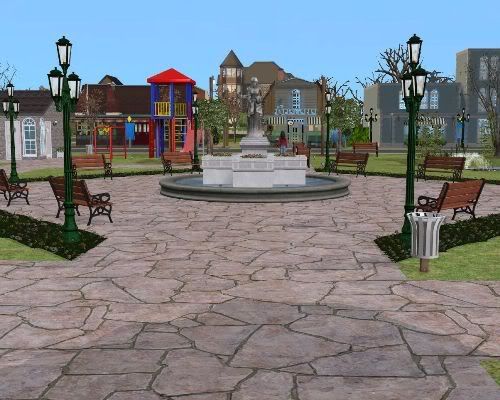 We hadn't been there since Davina was a child and it was nice to sit and take in the fresh air.
Davina ran into one of her best friends Nelle and they ran off to the playground like little kids.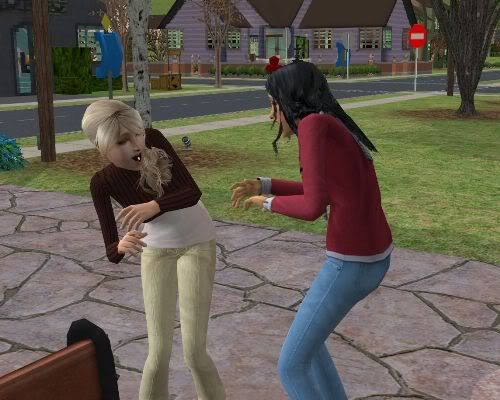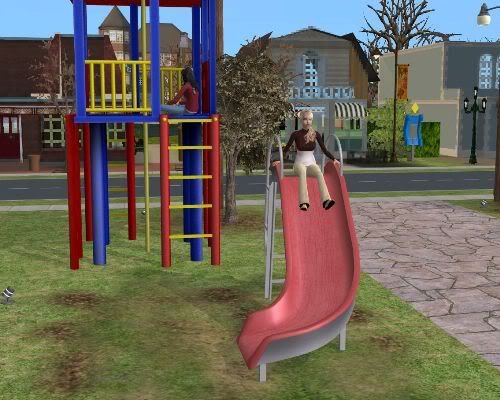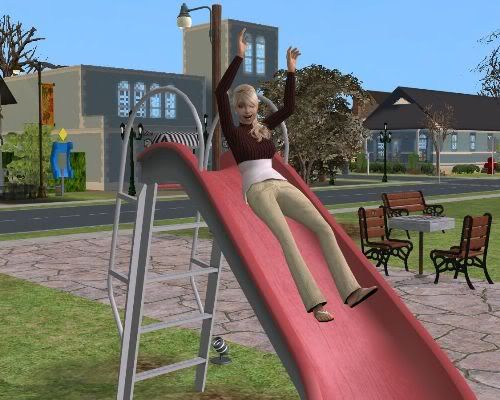 While I tried to shoot a couple of hoops. I don't know what I was thinking. I suck at everything athletic. George just sat there and laughed.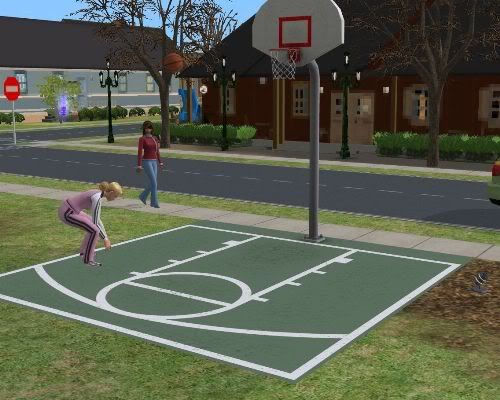 We decided to head home after we saw some strange guy walking around. We have no idea what he was up to but I hope he didn't stick around.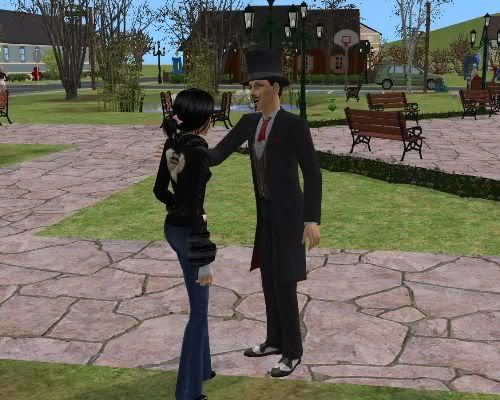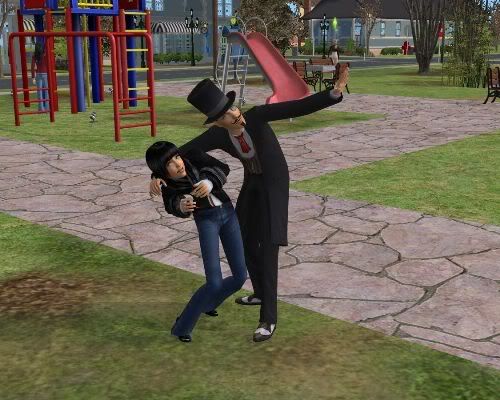 That evening, I had the inspiration to finish my novel and a few weeks later, I was done. It made over $3,000! Now to start working on the sequel!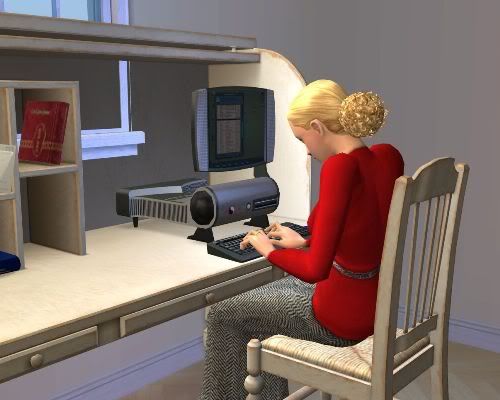 Extra pics:
Here is Belinda's restaurant called Belinda's.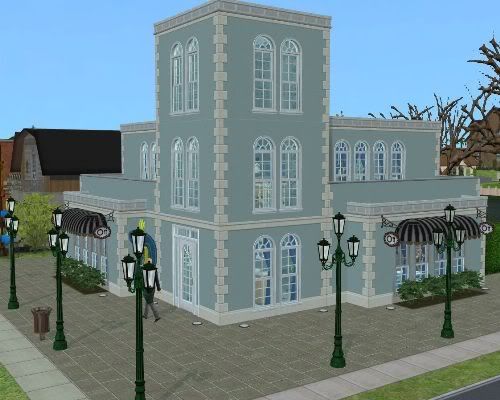 At first, I had it as a restaurant on the first floor and then upstairs had a bar and buyable pizzas and other food she made. This is what the customers usually ended up doing when upstairs at the bar: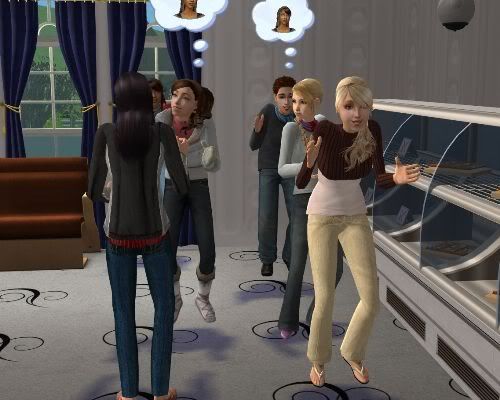 Doing the smustle. Davina was supposed to be there to help clean but as you can see, she'd rather dance lol. So I completely renovated the place the second time I played it. I got rid of all the buyable food and now it's strictly a restaurant. So we'll see what shop I have her buy to start selling her food again, since she makes so much more money off of that than the restaurant.
Notes:
Sorry for such a delay in an update. I haven't had much time to play and could only get through 1 sim day each day I attempted to play. But I played the Meadows and the Stevens and their update will be put up soon. And I was having issues with the picture size as well. So if you tried viewing and no pictures were there, I was deleting and reuploading the pics.
Little does Belinda know, Davina and Joel already woohoo'd in the Fall at Joel's house (before I started blogging). I thought they were just making out on the couch but they were actually woohooing.
In the pics at the park, you can see Belinda's Restaurant in the pic of Davina going down the slide and a great shot of Hu's Grocery Store where Belinda's shooting hoops.
The Unsavory Charlatan is robbing
Michelle Reid
. He's smart because her family is the wealthiest family in the hood.
Davina was supposed to start college at the end of the round but I'm waiting until next round to start her. I didn't want to age her to YA before I played Joel since I don't have InTeen. I'm really not sure if i'll keep them together anyway because their chemistry isn't super high (I think only 1 bolt). We'll see who they like in college.
I can't wait to start the new aging system since I'll only play for about 2 sim days and will be able to get through the families so much faster. I felt myself dreading to play through the 5 sim days the last few times I sat down to play because I don't always have a lot of time to play.